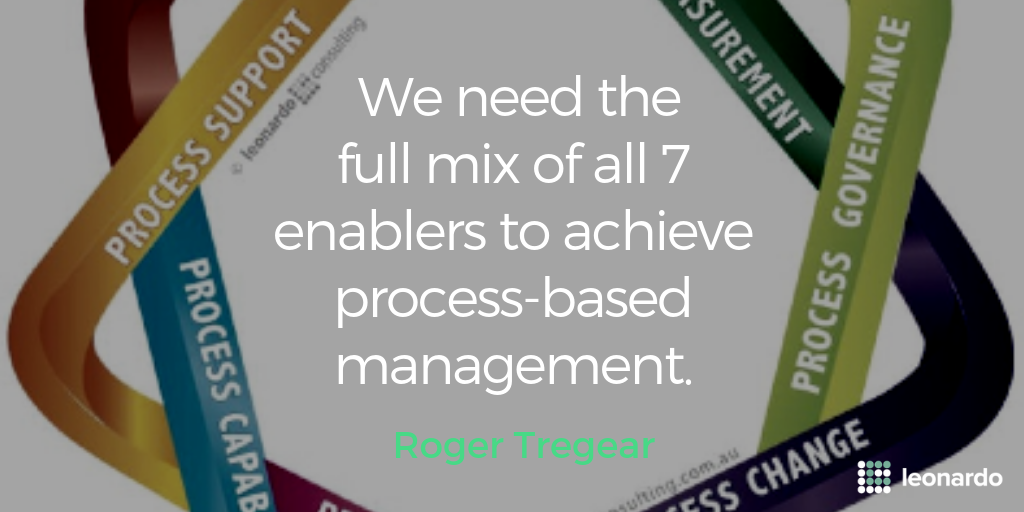 As some readers will know from my previous writing, for example here, there, and everywhere, I take a broad view of BPM, seeing it as a management philosophy, preferring the term process-based management over business process management. A brief summary of that view is as follows.

An organization's resources are managed 'vertically' via the organization chart. Value is created, accumulated, and delivered 'horizontally' across that chart, i.e., via cross-functional processes. Value is accumulated across, not up and down, the functional organization as the various parts collaborate to create, accumulate, and deliver value in the form of a desired product or service. It follows that an organization executes its strategic intent via its business processes. In this context, where cross-functional processes are key to the delivery of value and execution of strategy, the improvement and management of processes is critical to the optimization of an organization's performance. BPM is not a one-off project, nor an IT system; it is a management philosophy.
Discovering, documenting, improving, and actively managing cross-functional business processes exposes opportunities for getting more and better work done with the same, or perhaps fewer, resources. The power of process-based management is in understanding how work gets done and, based on that understanding, eliminating impediments, streamlining activities, and removing waste. The focus is on how the processes, including all the people and resources involved, deliver value to the customers and other stakeholders. This cross-functional focus is missing in most organizations, where it is replaced with an internal management emphasis guided by the organization chart.

My experience working with many organizational types in many countries to create and sustain process-based management allows me to conclude that there are seven elements that must come together to support process-based management:


Discovery, understanding, and documentation of the organization's processes in a hierarchical model — Process Architecture
Defining process performance measures and measurement methods, collecting and reporting performance data — Process Measurement
Responding to process measurement data by taking appropriate action to address actual or emergent performance anomalies or opportunities — Process Governance
Continuously discovering processes that can perform better and finding ways to close the performance gaps — Process Change
Creating an environment where the organization, its people, and their teams are always conscious of the processes in which they participate — Process Mindset
Developing tools and skills required throughout the organization to identify, analyze, improve, and manage business processes — Process Capability
Providing support to develop, sustain, and realize the benefits of process-based management — Process Support.


These seven enablers are shown in Figure 1.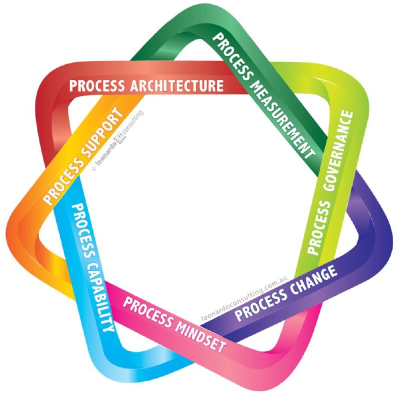 Figure 1. 7Enablers of BPM.

A Mobius strip is used to highlight the interdependencies between the elements and to emphasize that all are important, and each is necessary but not, by itself, sufficient.

These 7Enablers of BPM come together to create and sustain process-based management. If developed simultaneously at a pace appropriate to the organization, these elements significantly increase the likelihood of creating sustained process-based management. The 7Enablers is a collective of mutually-supportive prerequisites for successful and sustained process-based management.

The core artifact is the process architecture since documenting the key processes is the necessary first step. Once documented, process performance measurement targets can be established, and governance arrangements defined to show who should respond to performance gaps and opportunities. These first three enablers (architecture, measurement, governance) are the 'physical infrastructure' on which the rest is built. Continuous process change is the cornerstone of process-based management. Without process improvement, and its companion process 'innovation', all else is waste.
For process management and improvement to become ubiquitous, it must be embedded in the organization mindset. Having a central specialist group to do all process work does not scale, and it is necessary to build the capability for identifying, analyzing, improving, and managing business processes throughout the organization. Coherent support is required for all involved.

Missing Enablers

Much has been written (see previously-mentioned references) about the effect of each of the enablers, and of the full set, on achieving and sustaining process-based management. To further understand the nature of each enabler, it is instructive to consider what happens if an enabler is missing or not working properly.

What are the consequences of a missing enabler? In Table 1 we consider the impact of each enabler (alone) being missing from the management mix.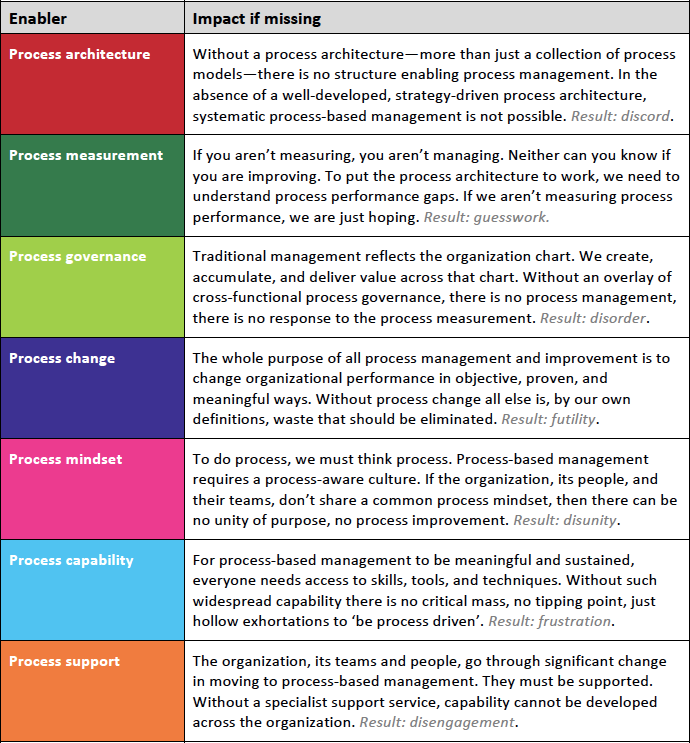 Table 1. Missing enablers.

To achieve and sustain process-based management we need the full mix of all seven enablers to be developing together. Lose any one of them and the balance is upset, leading to failure. It is not enough to just hope that each enabler will develop automatically. A proactive plan and tracking mechanism are needed for each enabler to ensure success.

Any missing enabler will stop the development of process-based management.