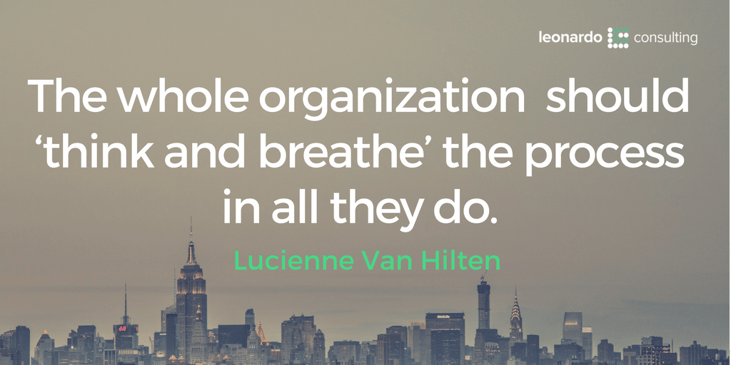 Many of our customers find the implementation of a Process Mindset one of the most challenging parts of operationalising BPM. The whole organization should 'think and breathe' the process in all they do. It can be daunting to both know where to start and how to achieve a Process Mindset within the organization.
Think Process
There are many strategies that can be used to develop this 'think process' approach. A few of these are:
Regular 'community of interest' meetings

Process improvement project discussion groups

Process innovation jams

Idea submission schemes
Where to start?
When the organisation starts the BPM journey, what do you discuss in the first sessions? How do you make sure the whole organisation sets off in the direction of 'think process' with the same mindset? How do you ensure that people are not scared by the concept of 'think process'?
Everyday process
It is helpful to emphasise that 'think process' is a normal part of daily life. Everything we do in life is a process, but we don't think about it consciously because that would make day-to-day life tiresome. However, when we deconstruct our lives 'behind the scenes', it is processes that run the show and drive us from moment to moment.
Take buying a house as an example. The process starts with the thinking and dreaming about buying a house and ends when a house is purchased, or perhaps a decision is made not to purchase, i.e. the process may terminate early. The process steps might look something like this:
Start thinking/dreaming about buying a house

Talk to your partner about the options.

Dream about type of house

Dream about location of house

Arrange bank mortgage

Decide type of house

Decide location of house

Visit open houses

Visit auctions

Buy house at auction

Finalise mortgage

Finalise paper work
The following process steps are also possible:
Start thinking/dreaming about buying a house

Talk to your partner about the options

Decide not to buy a house but travel
Other variations are possible. If you have no partner, that step might alternatively be talking to your friends or family. Maybe you are a very practical person and instead of dreaming and consulting with someone, you go straight to the bank to get a mortgage because you know what you want and just need the money. This example shows a daily life process. Think about other processes that you might have in your life:
Getting yourself ready to go to work

Your everyday commute

Preparation and celebration of family holidays

Decision process on buying a new car

Loading and unloading the dishwasher
By using everyday examples in the first process mindset sessions, it is easy to see that 'think process' is something that we all do on a day-to-day basis. Connecting the everyday is crucial to developing a process mindset and a good start tooperationalising BPM in the organisation.