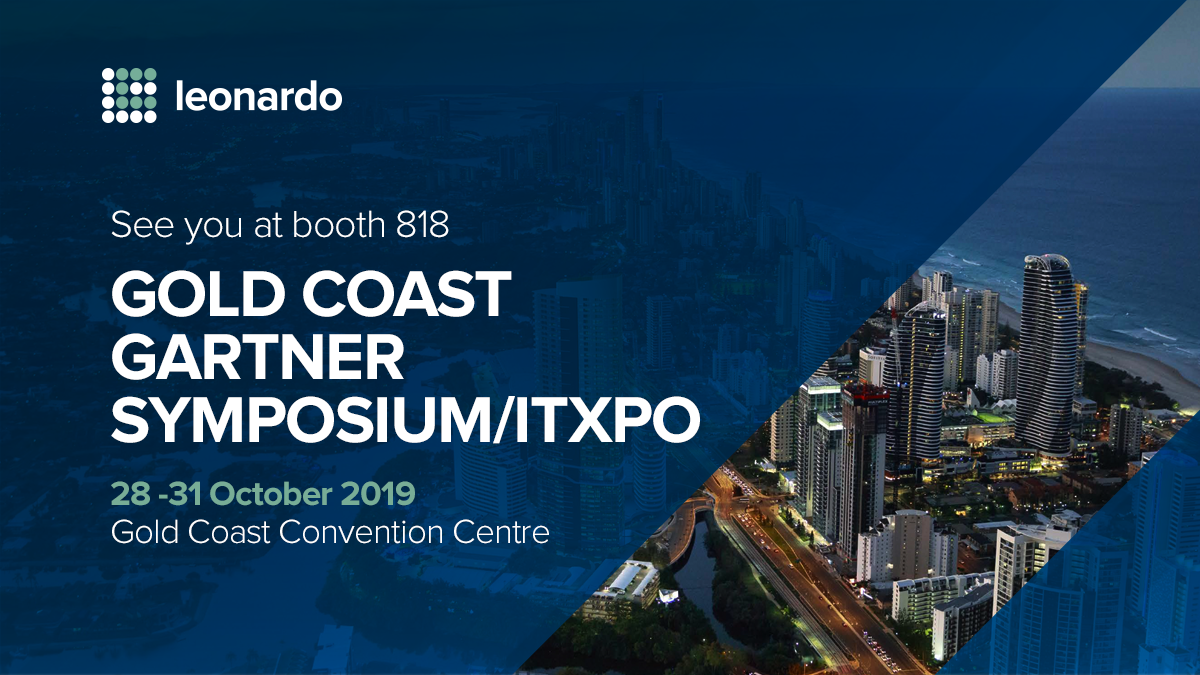 Leonardo will be exhibiting at 2019 Gartner Symposium / ITXPO Gold Coast. We will be talking about how we drive end-to-end process improvement - from business architecture and modelling to process mining and automation, integration and platform- implemented for clients using an agile, scalable delivery model.
Come see our demo of process-centric applications built on a flexible, scalable platform - using best of breed technologies from Red Hat, Apromore, SoftwareAG, GBTEC & Pega.

Hear from Leonardo experts and partners
We will also be taking the stage on the afternoon of Tuesday 29th October at 1.10pm to talk about Process Mining.
Topic: How Process Mining is Helping Enterprises Optimize Customer Experience & Productivity
Presenter: Prof Marcello La Rosa, The University of Melbourne
Location & Time: Stage 3 - 1.10pm - Tuesday 29th October 2019.
Synopsis: Data is abundant in modern organisations, but data without meaning is useless. This presentation will expose the value of process mining to extract process insights from transactional data commonly produced by IT systems. Learn how CIOs and technology leaders can gain transparency into their business processes and use predictive analytics to discover the inefficiencies that result in customer churn and cost inefficiencies for the business.
Networking
Local Gin with Native Botanicals
Sample the finest produce of the Northern Rivers from the heart of the rainforest with a unique tasking experience lead by Cape Byron Distilleries'. Try Brookies 'Gin & Tonic with Native Botanicals', Slow and Spicy with Brookies unique sloe gin or 'Mac and Apple' with Brookies Macadamia Liqueur.

Time & Date: 17:15 - 18:45 Tuesday 29 October at the Leonardo booth 818.


The Process Shooting Gallery
Test your process accuracy at the Leonardo Shooting Range during Wednesday's Gartner IT/XPO networking reception to win awesome Leanardo swag and enter into the draw for a Sonos speaker!
Time & Date: 17:15 - 18:45 Wednesday 30 October a the Leonardo booth 818.