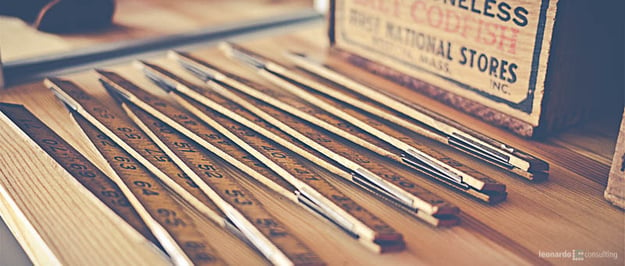 Process Measurement is one of the key aspects that lead to organisational success (Kellen 2003). Measures give visibility of organisational performance and provide control to determine the direction of the organisation. Measurement is also a crucial factor in Business Process Management; it is the 'Management' part of BPM (Tregear 2009). Knowing what an organisation does through a Process Architecture is important, knowing that those processes are being executed well and knowing where to focus attention and resources is even more important. Measures need to be balanced between Functional and Process. Functional measures focus on performance within a particular department or division, while process measures ensure the end-to-end process is delivering value to the customer.
When improving process measurement, the question then becomes 'What should be measured?'. The focus should be on determining those critical few measures (Higgins 2004) that most directly provide control over organisational direction and success. Some key factors in determining those critical few measures are:
Linked to Vision, Mission and Values
Balanced
Aligned
Leading
Practical.
For each of these key factors it is important that they:
relate to key stakeholders values and desires

focus on establishing organization in a competitive position in the market place, and

are

practical and economically feasible to implement.
1. Linked
to Vision, Mission and Values
For measures to be useful they need to provide insight for an organisation to make its strategic decisions. The starting point should always be the organisation's Vision, Mission, Values and Behaviours statements as these are the determining factors for the organisation's direction and reason for existing. Time and energy has been spent to identify where an organisation should be heading, thus any measurements should be directly related to helping achieve that aim. The Vision, Mission, Values and Behaviours need to be turned into clearly described goals that can be measured. These goals then need to be the basis for setting SMART measures - Specific, Measurable, Achievable, Realistic and Timely. Key factors that need to be considered here are:
Ensure the organisation Vision, Mission, Values and Behaviours are current, clear in their description (this must be done first as all measures will be based on this)

Set

measures that will drive behaviour desired by the organisation

Measures

should be precise and clear

Measures

should be operatinalised in performance appraisals and incentives.
2. Balanced
Measurement should not only be financial in nature. Measures that only focus on short term profit taking often do so at the expense of long term sustainability. Non-financial aspects such as customer satisfaction, operational effectiveness and employee satisfaction should also take into consideration. Typically this is in the form of the Balanced Scorecard (BSC), where a Balanced Scorecard is decomposed from the highest level down to specific metrics that contribute to that goal. This needs to be done from both functional and process perspectives to produce a Balanced Scorecard addressing both functional and process goals. Key factors to ensure Balances Scorecard is successfully established and useful are:
Employees need to provide input

All

employees should have an understanding of the business's objectives

Measures

should be understood by all

Allow appropriate time, money and training to implement the BSC

Balance Scorecard is a living thing and needs to be updated regularly.
3. Aligned
Measures need to be aligned for both Functional and Process based aspects (Tregear 2009). Creating alignment between both of these gives the optimum outcome, allowing functional managers to deliver efficiencies and effectiveness within a departmental silo, while process based measurement goals ensure optimisation across boundaries in the organisation. This is achieved by breaking down strategic goals into specific measurements which are crafted to incorporate both Functional and Process measures (Harmon 2007). When Business Process Management is part of an organisation it naturally creates a matrix management approach of both functional and process. The Balanced Scorecard is integrated with this to provide the measures in both those dimensions. Key factors in ensuring the alignment is properly catered for include:
Measures

are not counterproductive and send mixed messages

Clear accountability

for process and functional measures set at the right organisational level

Measures

are pragmatic and practical

Measures

produce value for stakeholders.
4. Leading
Further to this is the nature of the measures which should predict future results where possible. Lagging indicators that show what has happened in the past are not as helpful in determining action an organisation needs to take. Often lagging indicators provide information too late to be useful. Leading indicators provide information that allows an organisation to drive its results. A lagging indicator such as previous month's sales does not give information that will determine future performance. A leading indicator such as number of quotes requested/sent or number of enquiries received provides information that can help shape behaviour and drive the organization. Key factors that ensure leading indicators provide benefits to the organization are:
Sets

behaviour and performance in the organization

Linked to drivers that provide results for the organisation.
5. Practical
Another critical factor is that these measures are practical and economically feasible to capture. As well as What to measure and Why we measure, we need to consider When to measure, Who is involved in measurement, Where to measure, How and how often measures are to be made – aspects that are often overlooked. There are also several key factors that should be considered overall when approaching measurement in an organisation, including:
Too

many or too few measures

Lack

of executive support

Lack

of coherence of Balance Scorecard from higher to lower levels

Lack

of skill to properly implement measurement and Balanced Scorecard

Measures

need to be relevant, valid and reliable.
References
Harmon, P 2007, 'Using Balanced Scorecard to Support a Business Process Architecture', BPTrends Advisor, 16 October, Volume 5, Number 17.
Higgins, L, Hack, B 2004, 'Measurement in the 21st century', American Productivity & Quality Center (APQC), White Paper.
Kellen, V 2003, 'Business Performance Measurement: At the Crossroads of Strategy, Decision-Making, Learning and Information Visualization', retrieved from http://www.kellen.net/bpm.htm.
Tregear, R 2009, 'The Problem of the Question Mark', BPTrends, 8 September, retrieved from http://www.bptrends.com/publicationfiles/SIX%2009-09-COL-Practical%20Process-Tregear%20sep09%20v1-