If you are looking convert a large library of EPC models to Swimlane models (model type EPC – Row Display), a customized automatic conversion script is what you are after.
Firstly, check that such scripts are compatible with the tools and databases in your business environment.
We recommend three steps to follow when creating/obtaining such a that assists your organization when converting EPC Models to Swimlane Models.:
Conversion,
Rollback &
New model setup.
Conversion:

Creates new Swimlane (EPC row display) models
Creates a new folder structure for new models identical to the existing one
Moves all relevant objects to the new folder structure
Removes event objects from the process flow and replaces them with new relationships
Updates superior model assignments
Creates function allocation diagrams (FADs) and assigns them to the function objects
Applies custom templates and applies default layouts

Rollback – moves all objects back to their original folder locations and converts any updated assignments to the original model
New model setup – creates a new Swimlane model with the default layouts and custom templates automatically applied.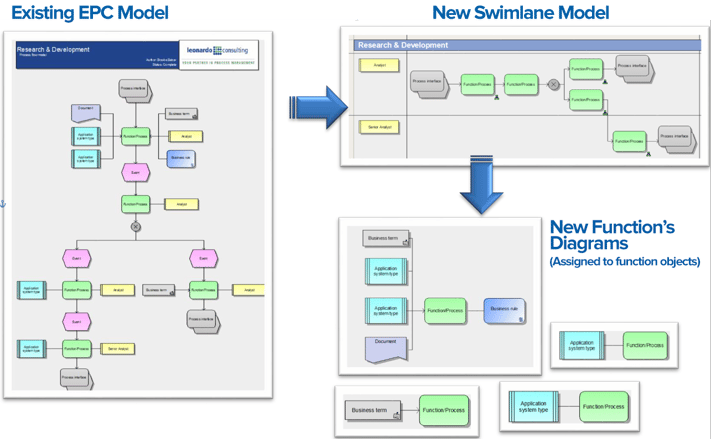 Connected models


Objects in superior models that have assignments to the existing EPC models will be updated and point to the new Swimlane models.
Group/folder structure

The script automatically creates a mirror of the existing folder structure. Models and objects are saved to this new group folder section that mirrors the existing one.
Output report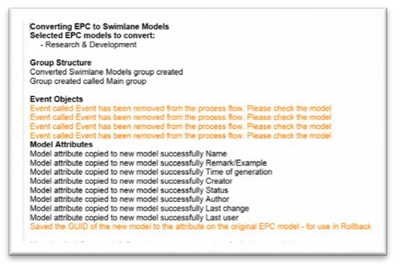 The conversion script produces a comprehensive report in MS Word format detailing all the changes made by the conversion script
Models
Model type EPC converted to model type EPC (Row Display) – referred to as a Swimlane model – without altering or removing the existing EPC
New Swimlane – EPC (Row Display) – models are created for each conversion and saved to a new folder structure identical to the existing
Model attributes on the original model are copied to the new
New function allocation diagrams (FADs) are created on each function object that has extra relationships occurring on the existing EPC
Objects
All objects (except events) from the original EPC model are reused as object occurrence copies in the new Swimlane or FAD models. This means all object attributes are inherited from the EPC
Object definitions are moved from the original folder location and saved with the new Swimlane
Objects are moved back to their original locations when the rollback script is run on a new Swimlane
Event objects from the existing EPC are removed from the process flow and replaced with new relationships on the Swimlane
Assignments
Assignments on superior models for the existing EPC models are updated to the new Swimlane models. For example, the Superior Value Added Chain diagram will have any Value Added Chain object's assignment changed to point to the new When the rollback script is run, this changes the assignment back to the original EPC model.
Any function objects on the EPC model that have non-process flow objects connected (e.g. Application System Type objects) will have a new FAD created for the extra objects to be placed and assigned to the function