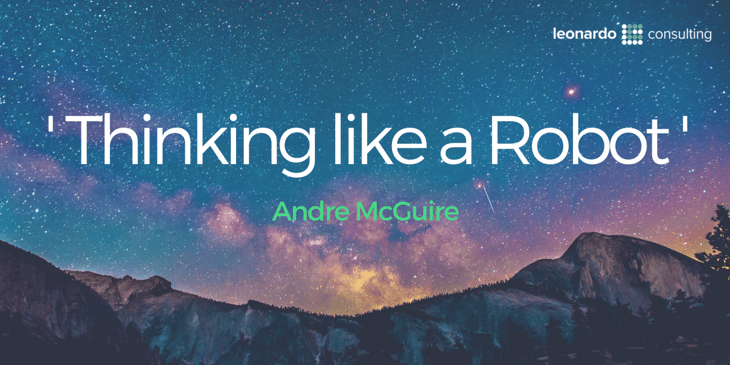 Robotic process automation (RPA) has been heralded as the next big thing in process management. Google Trends reports show that the last 2 years have seen a peak in interest in these technologies (Figure 1).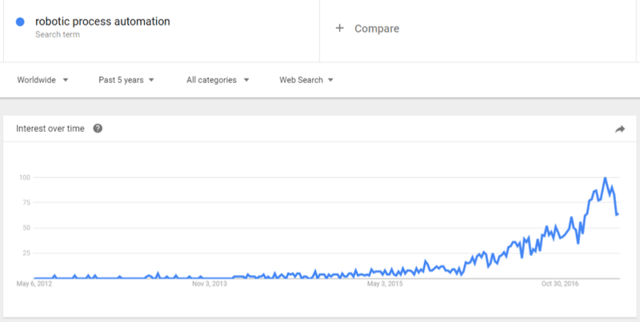 Figure 1: Interest in RPA in the form of Google queries (2012-2017)
A recent report from Grandview Research (Oct 2016) projects the global RPA market to reach USD 8.75 billion by 2024, meaning that RPA is not just flavour of the month and is, in fact, here to stay. As the RPA tools evolve in consistency, credibility and applicability, more organisations will be quick to adapt to the emerging technology. According to Forrester Research (Nov 2015), up to 9% of the global workforce will be threatened by RPA software in the near future. The change is coming, and it is up to process improvement professionals to prepare for this disruption by properly educating their corporations on the do's and don'ts of RPA.
RPA today
RPA is an autonomous digital workforce that is independent of human interaction. A piece of computer software or 'robot' captures and interprets existing applications for processing a transaction, manipulating data, triggering responses, and communicating with other digital systems. RPA differs from conventional systemic automation because the bots run through the processes and interact with the applications as a human would, effectively replicating the actions of a human user.
Basic RPAs focus on simple tasks, such as table population, desktop consolidation, cut/copy/paste (CCP), or task scheduling. Advanced RPAs can tap into more unstructured data using techniques found in chatbots or online digital assistants, such as Apple's Siri or Google Assistant. In the future, cognitive RPAs will be able to effectively navigate complex scenarios initially designed for humans, such as IBM's Jeopardy winner Watson, or Google Assistant's robot bartender.
The clear majority of commercially available applications are included in the first two types: basic RPA, or advanced RPA. These types of RPA promise a quick fix, with reduced financial investment. It is these qualities that make RPA exceptional in cases where automation is applied for the first time, and where a more sophisticated IT solution would not be feasible. By licensing robots on a per-year basis, similar to business process outsourcing (BPO) solutions, RPA provides a flexible workforce that is easily scalable to project needs. This can potentially reduce error and cycle times, enabling standardisation and, ultimately, reducing operational costs. These are similar objectives to those found in process improvement.
RPA's Impact on Process Improvement
Process improvement aims for faster, cheaper, less risky, higher quality, and compliant ways to deliver process outcomes. RPA aims to be the enabler of such process objectives by reducing human involvement. Given that not all processes are created equal, RPA benefits from focused implementation instead of a general Band-Aid to existing process problems.
RPA delivers maximum benefits to improved processes that exhibit certain characteristics. Two variables help to determine the level of RPA required to achieve maximum benefits: data (structured or unstructured); and tasks (complex or simple).
Structured data and simple tasks
The application of RPA is primarily suited for processes where there is ongoing human involvement in large volumes of structured data entry, and straightforward processes with simple business rules that require switching between various applications. Typically, these processes are found in financial services and banking, telecommunications, and healthcare. These industries often execute processes that are great candidates for RPA, such as patient or client data migration, customer account management, or insurance claims processing.
Unstructured data and simple tasks
Processes that require complex and unstructured data management, such as document validation or signature verification, may not be suitable candidates for basic RPA. Although some technologies have started to emerge that enable handling unstructured data, the added costs associated with guaranteeing data quality and integrity may render an RPA solution unviable. Realistically, implementing RPA in this type of process will likely only be viable if there is a high volume of tasks being performed.
Structured data and complex tasks
Processes with a high number of possible outcomes and complex business decisions, such as workflow escalations, require highly complex automation. These include 'human-in-the-loop' processes, where the overall output depends on the judgment of a human operator, or only a specific person has the required accreditations to approve workflow. Examples would include issuing certifications, such as a driving licence, or approving a home loan—though it is possible to implement RPA to gather all the required information to enable faster completion of the process. However, there may be an unavoidable bottleneck where the human operator must ultimately make the decision to approve the certification/loan. If the process depends on regulatory changes, or on applications that are frequently updated or modified, any RPA solution would have to be re-configured each time the activity changes. This must be carefully factored to reduce the risk of costs outweighing the benefits.
Unstructured Data and Complex Tasks
Some processes are so dependent on intangible or ambiguous data, and flexible decision-making, that implementing an RPA solution would be highly ineffective. Case-by-case scenarios, such as managing an immigration visa application, or child adoption processes, require a level of cognitive reasoning to extract, process and act on the information that basic RPA does not currently provide. Eventually, cognitive RPA solutions will be developed that can handle complex business rules with multiple escalation pathways, and use learning algorithms to continuously adapt to different inputs. However, the technology to implement this is not currently available commercially—so, ultimately, this type of process is still best handled by humans.
The diagram below shows the culmination of the above variables (structured or unstructured data, against complex or simple tasks) highlighting the ideal combination of process characteristics for today's RPA technology implementation.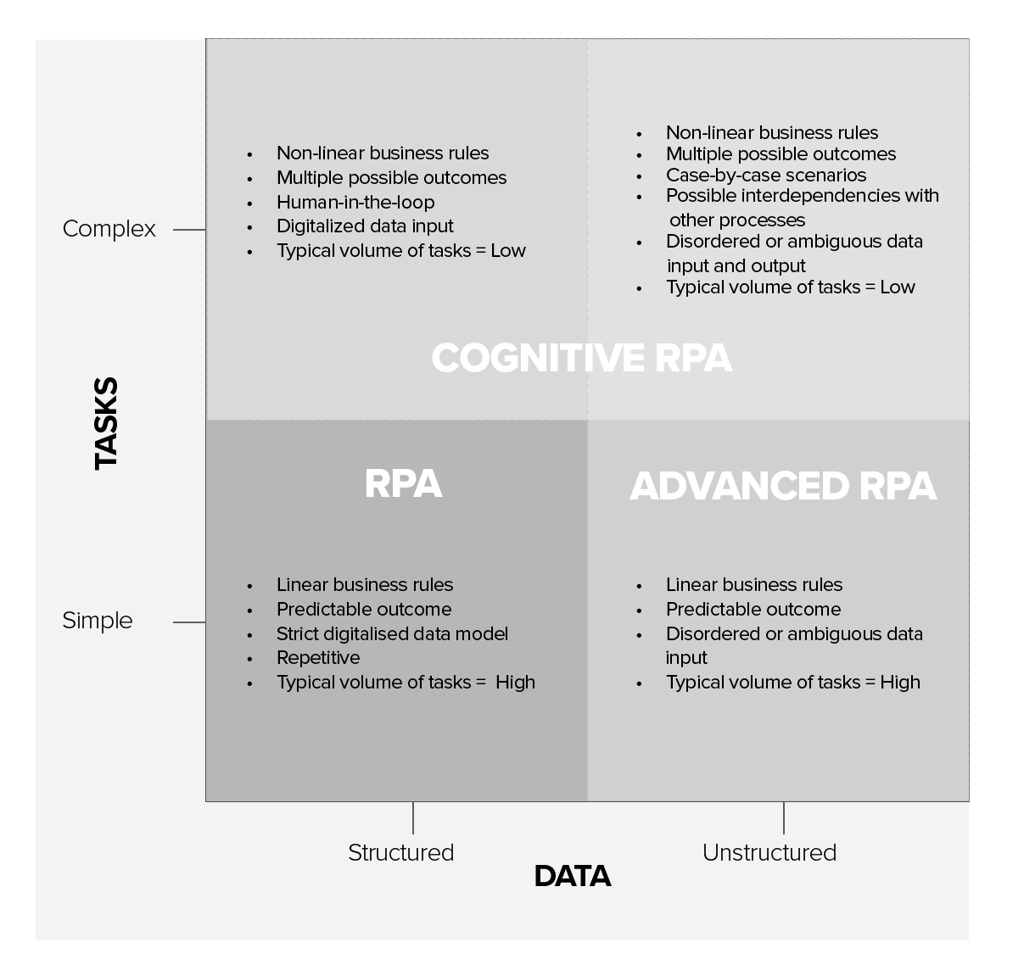 Figure 2: Process characteristics for today's RPA technology implementation.
Thinking RPA
The quadrant developed in this paper presents an attempt to establish a framework for implementation of RPA. Process improvement practitioners can use this framework for communication, assessment, and prioritisation.
RPA is not just a trend—it is well on the way to become one of the essential solutions to process improvement, especially those with human involvement. At the time of writing, RPA solutions tend to benefit human-involved processes with simple tasks and structured data at a high volume. As RPA technology continues to evolve, it is anticipated that RPA solutions will effectively cover more of the quadrant—that is, able to handle unstructured data and complex tasks at a higher volume than humans. Time to start thinking RPA.