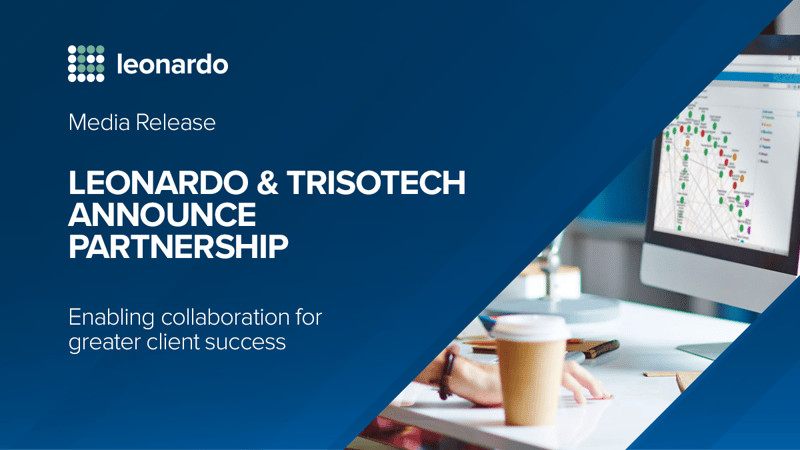 Leonardo announced today that they have formed a partnership with Trisotech - a leading provider of highly visual and interactive software tools that help organizations innovate, transform and improve their operations.

According to Adam Mutton, Managing Director of Delivery for Leonardo, "Trisotech enables Leonardo Consulting to foster an innovative, collaborative approach for the subject matter experts at its clients. Trisotech's Digital Enterprise Suite is a modelling environment that helps Leonardo design, model and execute its customers' business processes & business rules. Organisations globally are demanding digital and mobile enablement to streamline and automate their processes to improve the customer experience and drive revenue. Trisotech's modelling platform delivers BPMN, CMMN and DMN which are crucial artefacts to drive consistency that connects business strategy to automation, integration and implementation for Leonardo's clients."
"Trisotech is very excited to be partnering with Leonardo," says Trisotech Chief Sales Officer, George Barlow. "Leonardo is an acknowledged thought-leader in process management practice, and has an experienced team delivering technical outcomes for their clients – from strategy to execution.
"Leonardo serves a wide spectrum of customers in the public and private sectors in Australia and around the world by delivering a range of products and services in the consulting, delivery and development arenas.
"Combining Leonardo's expertise in assisting customers to improve organizational performance by documenting, analyzing, improving and managing business processes with our Trisotech Digital Enterprise Suite will provide Leonardo clients additional benefits. These include powerful and comprehensive new ways to visualize, innovate, transform and improve through tools like our Discovery Accelerator, Business Process Modeling, Case Management Modeling, Decision Management Modeling, and exciting data visualization via the Insight Analyzer – all powered by Trisotech's revolutionary Digital Enterprise Graph."
---
About Trisotech
Trisotech is a global leader in digital enterprise transformation solutions, offering innovative and easy-to-use software tools that allow customers to visualize, innovate, transform and improve their digital enterprise processes and business decisions. Trisotech customers use The Digital Enterprise Suiteto provide new and revolutionary ways for their knowledge workers to collaborate and succeed in an increasingly global, connected and competitive world. Trisotech products are providing digital transformation help to communications, agriculture, manufacturing, financial, healthcare, insurance, energy, distribution, government, and many other types of organizations.
Trisotech is a privately held company.
Website: http://www.trisotech.com