Creating a process management culture is a difficult and daunting task. We are never looking to make inconsequential change to unimportant processes. We look to change not just some abstract notion of activity sequence, we seek also to change the way that individuals and groups think about those activities and how we measure their success.
An essential element is to maintain the right balance between capability and credibility. BPM practitioners must demonstrate, not only that they have the knowledge and tools to deliver effective change, but that they also merit the trust of the organizations they seek to change.
THE STATES
The pathway to effective process management has two axes: Capability and Credibility.
Capability is about process management teams, and individuals, having the appropriate tools, techniques, facilities and knowledge and the ability to use them effectively.
Credibility is about both process management teams and their clients (internal or external) having the confidence to commit key processes to review.
Capability and credibility are both required at high levels to effect change. In this matrix there is only one state that will lead to effective and sustained process thinking and management.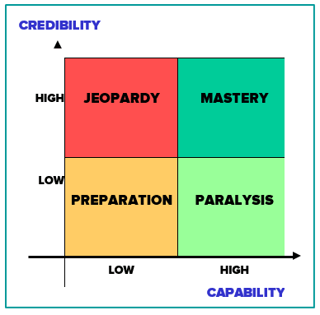 A process team with genuinely high levels of capability will achieve nothing but frustration and detachment if it fails to convince business owners that it can be trusted to deliver positive results. A process team that actually has low levels of capability but is regarded highly by business owners, will cause significant damage. More dangerous yet is the team that shares their client's erroneously high opinion of its capability!
Four development states can be described:
Preparation
Paralysis
Jeopardy
Mastery
PREPARATION. This is a common starting position with both capability and credibility at low levels. The process team, and the organization generally, are in the initial phase of developing process-based management approaches. Some work is starting in a localized and manageable environment. Other parts of the organization begin to take an interest. This is a reasonably benign state since the low credibility is likely to prevent over-ambitious projects. Business managers will not yet be prepared to give the BPM practitioners open access to core processes. Indeed this state can prevent all attempts to introduce process awareness. Too much time spent in this state will mean that true BPM will be still born. Meaningful projects will not be attempted and BPM will come to be seen as a peripheral and passing fad. This state corresponds to the lowest level of BPM maturity. It is important to remember that the quality of later BPM success is determined by the quality of this preparation.
MASTERY. At the other end of the BPM maturity spectrum, this is the only state where significant and sustainable process management change can be achieved. High levels of capability are matched by high levels of credibility, ie the process team is able to effect good results and the rest of the organization trusts them to do so. Mastery means that the process management team has the knowledge, tools, techniques, infrastructure and accurate self-awareness to reliably
identify and implement process change. Adoption of BPM as a core management philosophy implies significant change for most organizations. Processes are inherently cross-functional and in focusing on them, business units change the ways in which they think about organizational structures, operational management, customers, product/service development, innovation and governance. Such changes require the confidence and commitment that can only be satisfied from the Mastery state.
PARALYSIS. When a process management team has the capability to do effective process work, but fails to convince the rest of the organization that this is so, ie they have low credibility, and a state of paralysis develops. The commitment of business owners is vital for process-based management. Process teams in this situation become frustrated and detached. They can see the benefits to be realized and are keen to get started, but cannot get the necessary cooperation. They have the tools, they've completed the training and put the projects plans together but cannot get the executive sponsorship required. It may not be the BPM practitioners alone who lack credibility. The concept of BPM has been around a long time and, for some people, carries a lot of baggage from perceived past failures. In some respects this also indicates a lack of capability – capability to communicate the BPM story and sell its benefits. For BPM thinking to have any chance of leading to BPM execution there must be extensive communication resulting in a shared understanding and vision.
JEOPARDY. This is the most dangerous state. Low levels of capability are not recognized by the process management team or its clients. There is only a superficial understanding of the concepts of BPM. The necessary tools and techniques are not available and/or are not well understood. Not only do some (or all) of the individuals working on BPM projects have low levels of capability, but the organization itself might be at a low state of process management maturity. At the same time in this state, high levels of credibility allow the process team to embark on overly ambitious projects with, inevitably, disastrous consequences. In this state, expectations can easily be set too high. Then when the over-promised benefits are not delivered, credibility in both the BPM concepts and the practitioners will plummet. At this point it might be impossible to restart any serious focus on process management. BPM supporters have been let down and BPM detractors have been proven correct.
Mastery is where you want to be. Jeopardy is a very dangerous place to be. In the other states - Preparation and Paralysis, the chances of doing much harm are low as the business owners are unlikely to allow it – credibility is low and governance is high. However, the fact that process improvement is not happening in these two states is not neutral. The cost of inaction, of lost opportunities, can be significant.